Start Your Holiday Wish List
Believe it or not Santa will be making his way to town in less than two months! If you think you made the "nice list" the time to start your holiday wish list is now! At Carats Fine Jewelry & Watches we've been working with the elves in the North Pole to ensure that our cases are stocked full of sparkly, stylish jewelry items. Here's just a sample of what you could unwrap this holiday …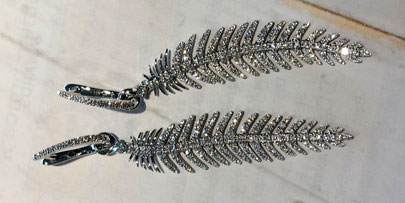 Statement earrings have been on the trend for quite some time now, and we're happy to report that they're here to stay. Spruce up that everyday wardrobe, or add a bit of glam to your evening look. With so many styles to choose from, you might even want to consider adding a couple pairs to your list.
For both men and women alike these watches deliver stylish looks made entirely from natural materials. Not only that but WeWOOD plants a tree for every watch that's purchased, so you can look good, and know that you've made a positive contribution towards protecting the environment.
The easiest way to add personality to your outfit is to incorporate colorful gemstones. With the addition of a bold fashion ring, or a beautiful, bright pendant all of a sudden even that plain, everyday blouse will be ready for prime time. Pick a color that goes well with your current wardrobe, or go out on a limb and try something new.
The holidays are a great time to take your relationship to the next level! Create your wish list at Carat's Fine Jewelry to help ease his burden when it comes to picking out the perfect ring. Or, guys, rely on us to help you plan the ultimate surprise. Just imagine her face when she unwraps a beautiful diamond that symbolizes your everlasting love story!
To start creating your wish list stop by Carats Fine Jewelry & Watches in Sarasota, FL. Whether you have your eye on one specific item, or an entire collection of fine jewelry items, simply jot them down. From there, leave it to us to see that Santa gets your requests.